Possibly one of the most infamous items in all of fly killing warfare, the original BUG-A-SALT has just gotten an upgrade. Now with more power for less salt, the BUG-A-SALT 2.0 is blowing away the competition. It packs more power than its previous model while still maintaining that reasonable cost. It is worth every penny if you ask its thousands of users. This new version of the BUG-A-SALT device is definitely a must-have for homeowners who are looking for convenient ways to get rid of unwanted insects in their property without the use of toxic chemicals.
About BUG-A-SALT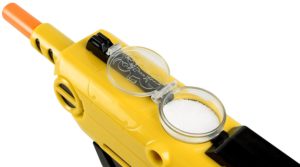 The concept of the BUG-A-SALT is using normal table salt as ammunition to be shot at flies like buckshot.
It is all spring and air operated, so all you need is the BUG-A-SALT 2.0 and table salt to start shooting small house flies and pests. After every cock, the safety engages and you will need to switch it off before firing, preventing rapid-fire action. While you are able to bypass this, it may void your warranty. It is not recommended you shoot a very large insect as the most it will do is get angry.
Thoughts And Details
There have been reports that the BUG-A-SALT 2.0 can kill a wasp in only two hits (as opposed to the one hit kill shot for flies). It has a maximum range of three to four feet while having an effective range of one to two feet. It can effectively kill almost all types of small insects in just a single shot. Many of the users have expressed their satisfaction with the device. This product is even more useful once you have found the nesting area of those pesky insects. It is very safe to use since it does not use any toxic chemicals. You can use it anywhere in your property, indoors or outdoors.
The best thing about this device is its user-friendly design. The device does not have a lot of special parts or buttons that might confuse first-time users. This model has a stylish plastic finish that is durable enough to last for several years.
BUG-A-SALT 2.0 vs BUG-A-SALT Lawn
It is also worth mentioning the difference between the BUG-A-SALT 2.0 and the BUG-A-SALT Lawn & Garden Edition. The BUG-A-SALT 2.0 primary use is for indoor bug eradication, this means you'll be using table salt. The Lawn & Garden Edition has a bigger bore, so it can shoot a larger burst of salt as it's primarily used outdoors.
This also allows for the Lawn & Garden Edition to use higher grain salts as ammunition, although regular table salt still can be used if desired. The BUG-A-SALT 2.0 is definitely more recommended for homeowners who are observing unwanted insects inside their homes. This device can immediately kill almost all house pests, including flies, mosquitoes, and wasps.
Some would argue that the Lawn & Garden Edition is a direct upgrade to the BUG-A-SALT 2.0, and while this may be the case in certain aspects, it all comes down to personal preference. If you don't mind large amounts of salt around your house, you should just get the Lawn & Garden Edition. If you'd rather have less to clean up, buy a BUG-A-SALT 2.0 for indoor use and a Lawn & Garden Edition for outdoor use.
Choosing and Buying BUG-A-SALT
You can buy both products at the same time if you want to make sure that no pests will stay for long on your premises. The delivery fee is cheaper if you purchase both items at the same time. There are some users who simply chose to start with the BUG-A-SALT 2.0 version and are satisfied with the results. Most of them, however, still ordered the BUG-A-SALT Lawn & Garden edition for outdoor use.
You can find my comparison between the BUG-A-SALT 2.0 and BUG-A-SALT Lawn & Garden Edition here.
Features and Specifications
The BUG-A-SALT 2.0 features a new improved and re-engineered model (more power with less salt), battery-less operation, pop-up sight indicator, textured hand-grip for non-slip cocking, and 90-day warranty.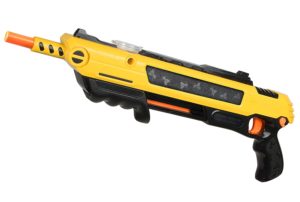 The difference between the 1.0 and 2.0 models is that the 2.0 model has been recently updated to fix most, if not all problems that the 1.0 model suffered from. Skell Inc. seems to have created the 2.0 model using higher quality, more durable materials. There have been very few reports of the product breaking or being unusable.
If you do happen to receive a broken model, customer support has proven to be very helpful. The product also comes with a service warranty so you will not have to worry about the repair cost. Nonetheless, most of the users did not experience any technical problem with their purchased device. This upgraded version is proven to be more durable and long-lasted than its predecessor.
Actual Users' Thoughts
The BUG-A-SALT 2.0 has proven to be highly modifiable with both specially made and real gun modifications by multiple reviewers. This review here and this review here both show how far you can really go with modifications. But if you'd rather settle for just a laser or a simple sight, that's fine too. There are also specially made BUG-A-SALT accessories which can be bought separately. NOTE: You do not need to modify your gun. Do this only if you want to. The BUG-A-SALT 2.0 has plastic sights that flip up once the gun has been cocked.
Overall, the gun provides hours of fun for anyone with a fly infestation problem. This gun should not be used as a toy or given to a small child to play with, as they could potentially blind themselves or someone else with the salt. While it doesn't necessarily wound skin if shot at oneself, it does give a rather painful sting.
Final Thoughts
This is not to be used as a weapon to defend against home invaders, as it most likely wouldn't do enough to stop someone from breaking into your home. The cost of this product should also be taken into consideration. Even though it is an upgraded version of the previous model, its price did not significantly increase. Instead of trying the former model, this should set already set the benchmark for first-time users.
The BUG-A-SALT 2.0 truly is the fly swatter of the future!
Summary
Reviewer
Review Date
Reviewed Item
Author Rating