Effectiveness and efficiency are some of the top factors that one must regard when buying insect killing devices. It is only fitting and suitable to do so. This is because buying ineffective and inefficient products are simply a waste of time and money. And if you are currently checking out the Dynatrap Insect Killer DT1050-TUN Decora Series, then you've come to the right place.
Apparently, this review will try to tackle all the essential details and specifications that you may need to know about the product. And by knowing so, it will help you understand more about the pros and cons of the insect killer. Surely, once you've understood all the aspects needed, you can then decide if the DT1050-TUN Decora Series is a good fit for you. But if not, you can also try to look for other products here.
So, without further ado, here's a quick yet intensive look on the Dynatrap Insect Killer DR1050-TUN Decora Series.
Buying Insect Killing Devices Today
As mentioned, effectiveness and efficiency must be some of your top priorities when buying an insect killing device. But while these factors almost always make up the huge parts of many consumers' buying decisions, there are other factors that need considering as well.
For some, it may include functions and specifications. And this is only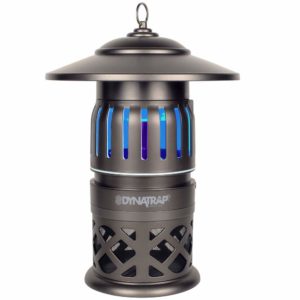 suitable as there are people who prefer specific features. Others would also regard cost and warranty terms. In fact, even the package inclusions are, most of the time, looked upon, especially for those who are very meticulous when it comes to pricing and costing. And in speaking of being meticulous, there are those consumers who are pretty much sensitive as well with the style and appearance.
This is pretty logical too. And if you are one of these individuals who prefer to have a good-looking and stylish yet effective insect killer, then the Dynatrap Insect Killer DT1050-TUN Decora Series might be a great option for you.
Dynatrap Insect Killer DT1050-TUN Decora Series
From the name itself, Decora Series, the DT1050-TUN model from Dyntrap seemingly appears to be perfect for decoration. Well, the truth is – the Decora Series that Dynatrap introduced to the market is actually ideal for home decoration. And if you are to check the models under this line, you will find sleek and stylish insect killers.
As for the Dyntrap Insect Killer DT1050-TUN, one would actually consider this as the most basic model in the line. But while basic, it still offers the same branding, technology, and features, just like the others. And here are the essential details of its functionalities:
Main Features, Specifications, and How It Works
Quite obviously, the main feature of the DT1050-TUN model from Dynatrap is to actually kill and eliminate insects. Along with insects, the device can also eliminate other types of flying pests like wasps. But what makes the Dynatrap Insect Killer a very stunning and innovative product is due to its capability to emit small amounts of carbon dioxide.
As you may know, flying pests and insects are very much attracted to carbon dioxide trails. And so by having it around the device, it makes it easy for the insect killer to attract the insects and eventually kill them.
The way it works is by attracting the subjects initially in its vicinity. Once lured in, the dry and quiet fan that it comes with will trap them inside the "catch basket." Naturally, the insects and flying pests will dehydrate and ultimately die within a few hours. Although it may take some time for some insects to die, they can no longer escape the "catch basket."
You may empty the basket every week or every after two weeks. But it depends on the amount of the dead insects inside.
Aside from the carbon dioxide emissions and quiet fan, the Dynatrap Insect Killer Dt1050-TUN also features the popular AtraktaGlo Ultraviolet Light. It actually works side-by-side with the gas emissions since it also lures insects and pests.
Durability and Structure
The area that the Dynatrap Insect Killer can cover can reach up to .5 acre.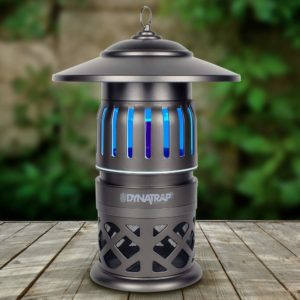 But while the coverage area is wide, many users and homeowners attest that it can expand further. And this goes to show that the structure and build of this device are quite on point. As it happens, the main material that it features in its build is tungsten.
Accordingly, this insect killing product is ideal for both indoor and outdoor purposes. However, the placement feature that it offers is quite limited as it requires hanging alone. Hence, you cannot mount this on walls and surfaces. Even so, it comes with a set of chains that you may use when hanging it in your chosen area.
Also, it is worth noting that you may need to plug it in a standard 110-volt outlet.
Appearance and Style
The style and appearance of the Dynatrap Insect Killer DT105-TUN are some of the main reasons for its apparent success and fame today. These are also the basis why the model is included in the Decora Series of Dynatrap.
As it appears, its overall finish and look are very stylish and sleek. And for any homeowner who is very much meticulous when it comes to appearance, this is a very ideal option for you.
When you hang it on your porch or garden, many users testify that it does not look like a disgusting insect killer device. In fact, it could further emphasize the accent and aesthetic of the area.
However, the price also spikes up as the features dramatically intensifies. For a price that falls under $175, you will be able to purchase the device along with its chains and plug. And with this kind of price point, many consumers find it a really expensive insect killer.
But even so, its overall features and functions essentially justify its worth. And it has been very evident lately that the price is really worth it.
Now, if you want to learn more about the Dynatrap Insect Killer DT1050-TUN Decora Series, this quick video might help you out: