Tips to Getting the Best Electric Fly Swatter
Flies are a nuisance to one's home or any property for that matter. Just the mere presence of them brings about a lot of unwanted feelings from you as the home owner and even from your house guests. While most flies are messy and noisy, some flies are carriers of disease. You clearly do not want their presence anywhere near your loved ones or yourself. That is why fly swatters exist to get rid of them. There are different kinds of fly swatters that you can choose from in the current market. Electric fly swatters are one of the best electric fly swatter out there that you can use to get rid of flies in your property.
However, before you invest in this product, you need to have some idea what you are getting yourself into and what your options are. If you compare the electric variant of electric fly swatter over the traditional one, you will come to learn that the former is capable of mid-air targets and is not as messy as the latter. Just remember that these swatters do not do the job of attracting the bugs but more of electrocuting them when touched. If you are no fan of fly traps around your home and want to take a more active approach in getting rid of flies, then this product is the perfect choice for you!
If you have no idea what kind of product you should be buying or have never tried buying one for yourself, this article will give you 7 of the best electric fly swatters in the current market that you can choose from. These were also mentioned in the Best Fly Killers Guide.
1. Executioner Electric Fly Swatter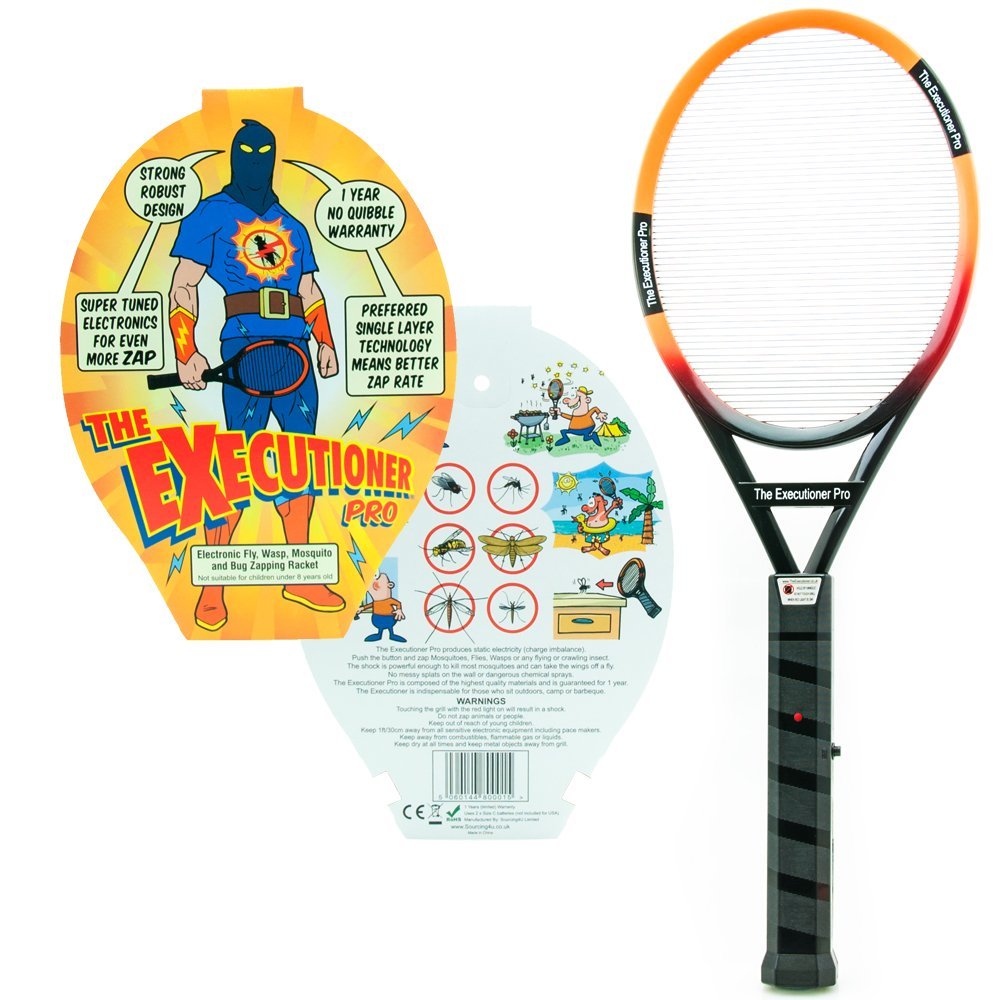 This particular fly swatter is true to its name. It requires two AA batteries to run 3000 volts of its power through the wire grate. The electric shock it produces is fairly loud. Nevertheless, you will not have a hard time maintaining and cleaning The Executioner. In just one hit, you can kill the flies that are bugging you at home using this one. It is effective in killing honeybees; however, you may have a hard time killing bumblebees and wasps. While it cannot directly kill larger bugs, it can stun them in time for you to follow up a big whack.
2. Black Flag Handheld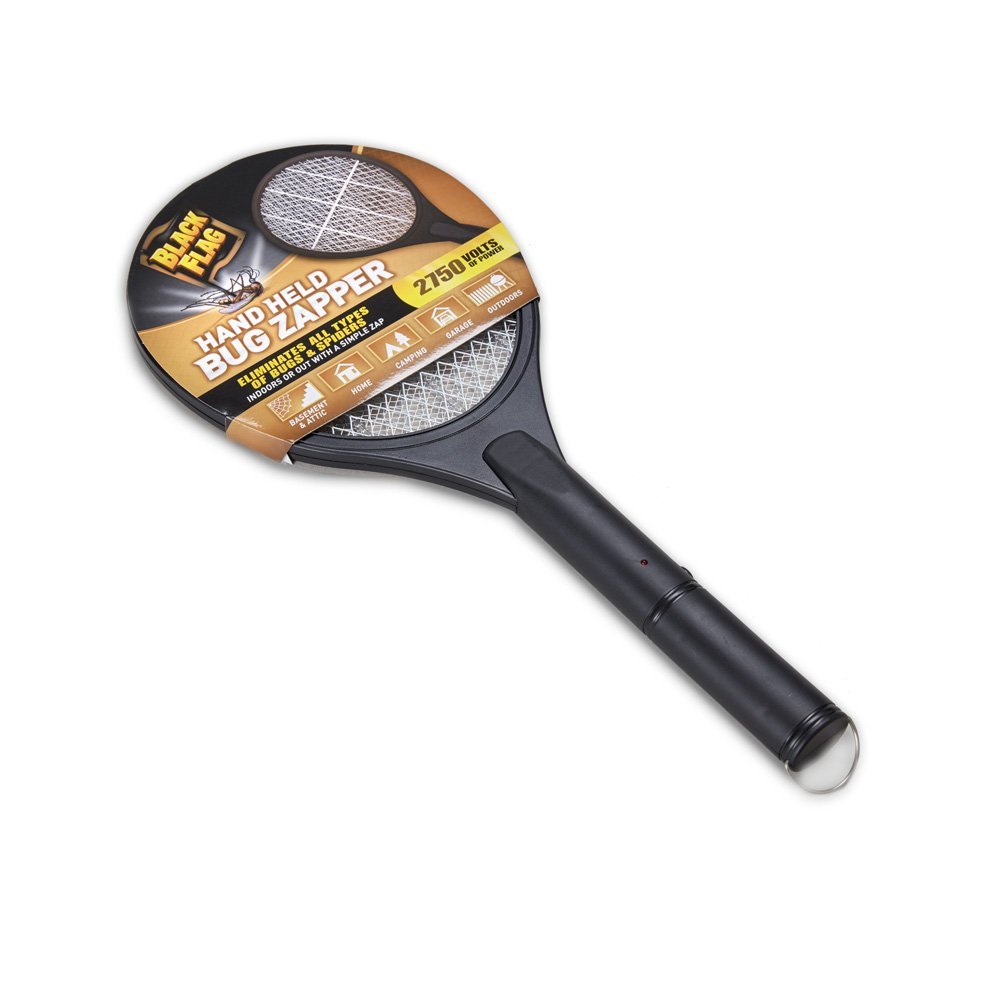 Now, if you are more after getting rid of larger insects like mosquitoes and wasps, then this product is the best choice for you. It is not advisable for use among fruit flies, though, as they can easily fly through the metal grate that the Black Flag Handheld comes with. This produce comes with a durable metal net with two layers and a loop that you can use for hanging. It runs a power of 2750 volts through its grate yet it is still not that powerful enough to get rid of stink flies. Its hanging clip found on the bottom is one of the reasons why they make the perfect bug killer outdoors and during the summer. Just make sure to place it in areas where lots of activities are going on.
3. Elucto Electric Fly Swatter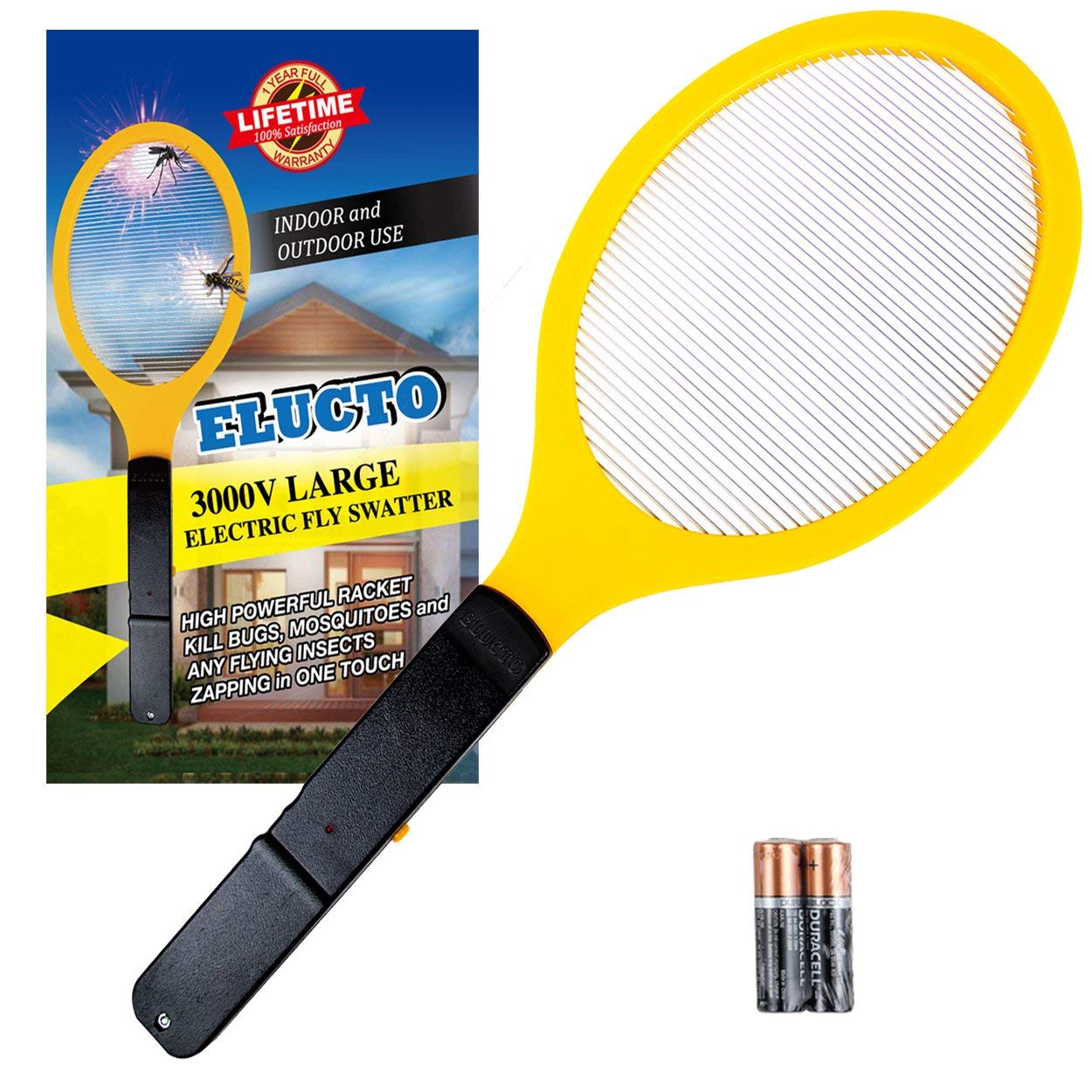 Amazon has currently deemed this product as their choice of electric fly swatter. That being said, you can indeed trust this product to do an excellent job in getting rid of flies. The Elucto operates on two AA batteries. According to reports, in just one hit, insects are immediately killed using this product. However, since its grate is smaller than usual, it might not be able to successfully hit insects that come in smaller sizes.
4. Warrior Supreme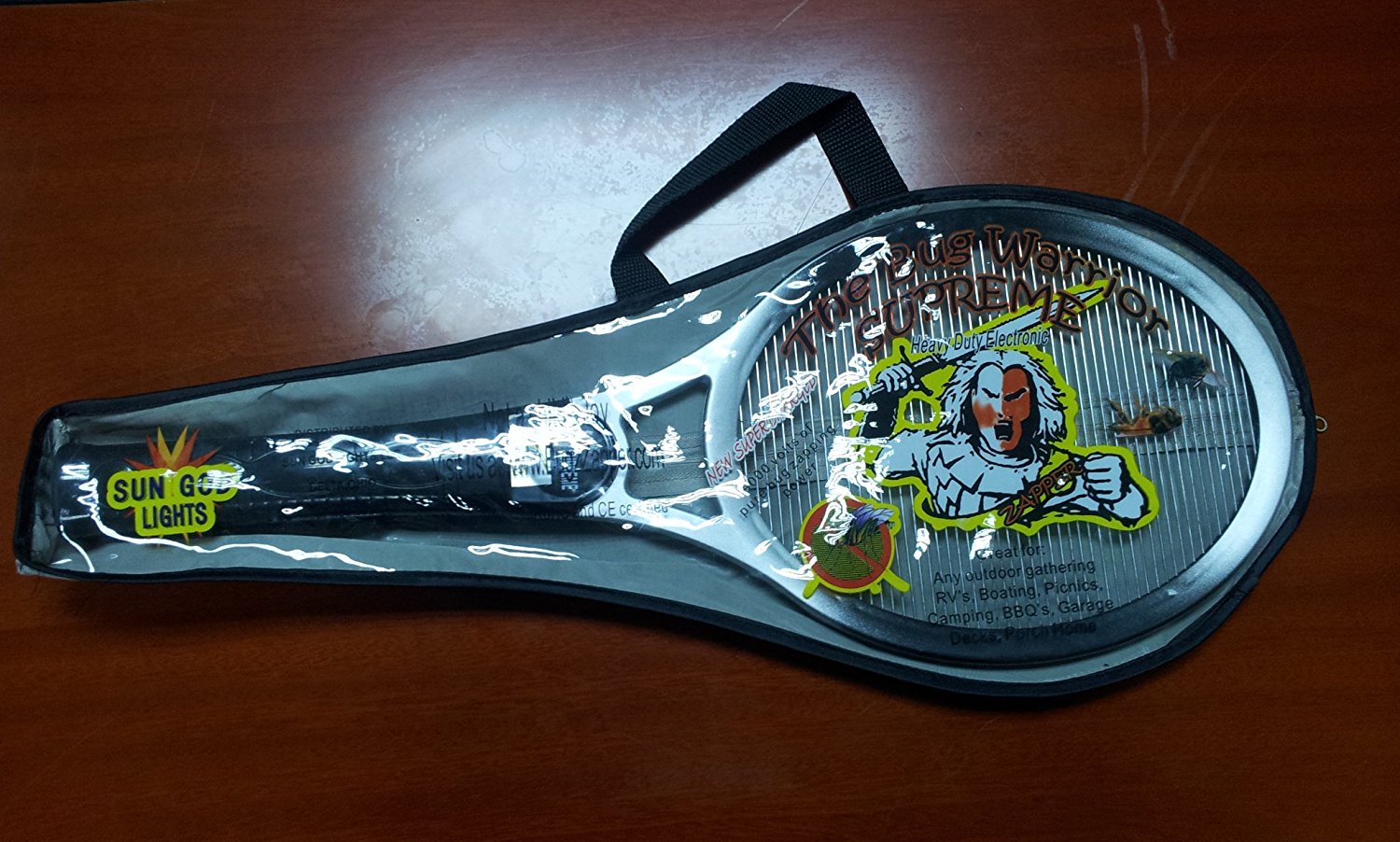 For its build, this product still offers being both lightweight and sturdy. Being durable and fast are two of the things that this product never fails to disappoint. The Warrior Supreme comes with 4000 volts of power that is capable of killing any fly that it touches. It claims to provide 120,000 zaps with the use of only a pair of AA batteries before having them replaced. Its only downside will have to be its cheap-looking handle.
5. Trapro Zapper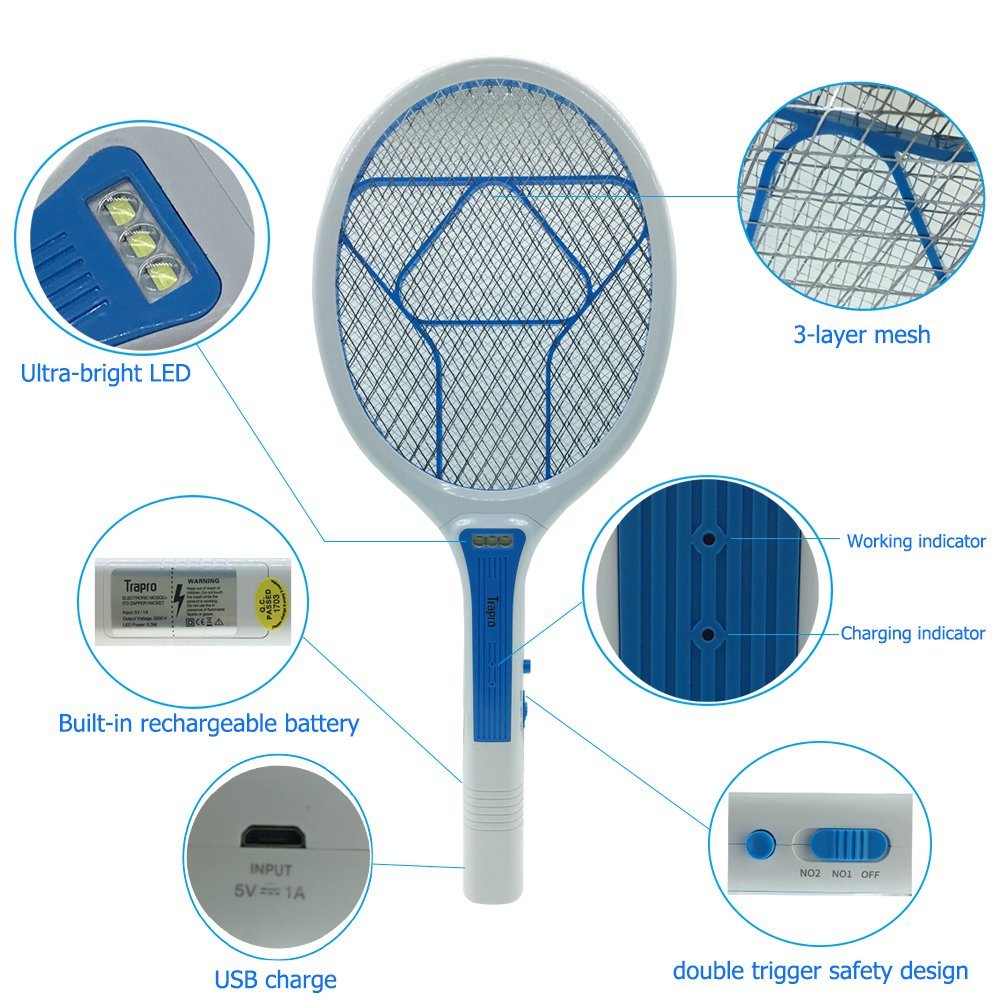 If you are looking for some fast action with your electric fly swatter wherever you go, then this product is for you. The Trapro Zapper comes with a standby feature that you can easily turn on to get rid of flies that come your way. It is compact and sturdy making it the perfect fly swatter that you can bring with you wherever you will go. It, however, easily misses out on killing fruit flies that are smaller in size.
6. 3C World Bug Zapper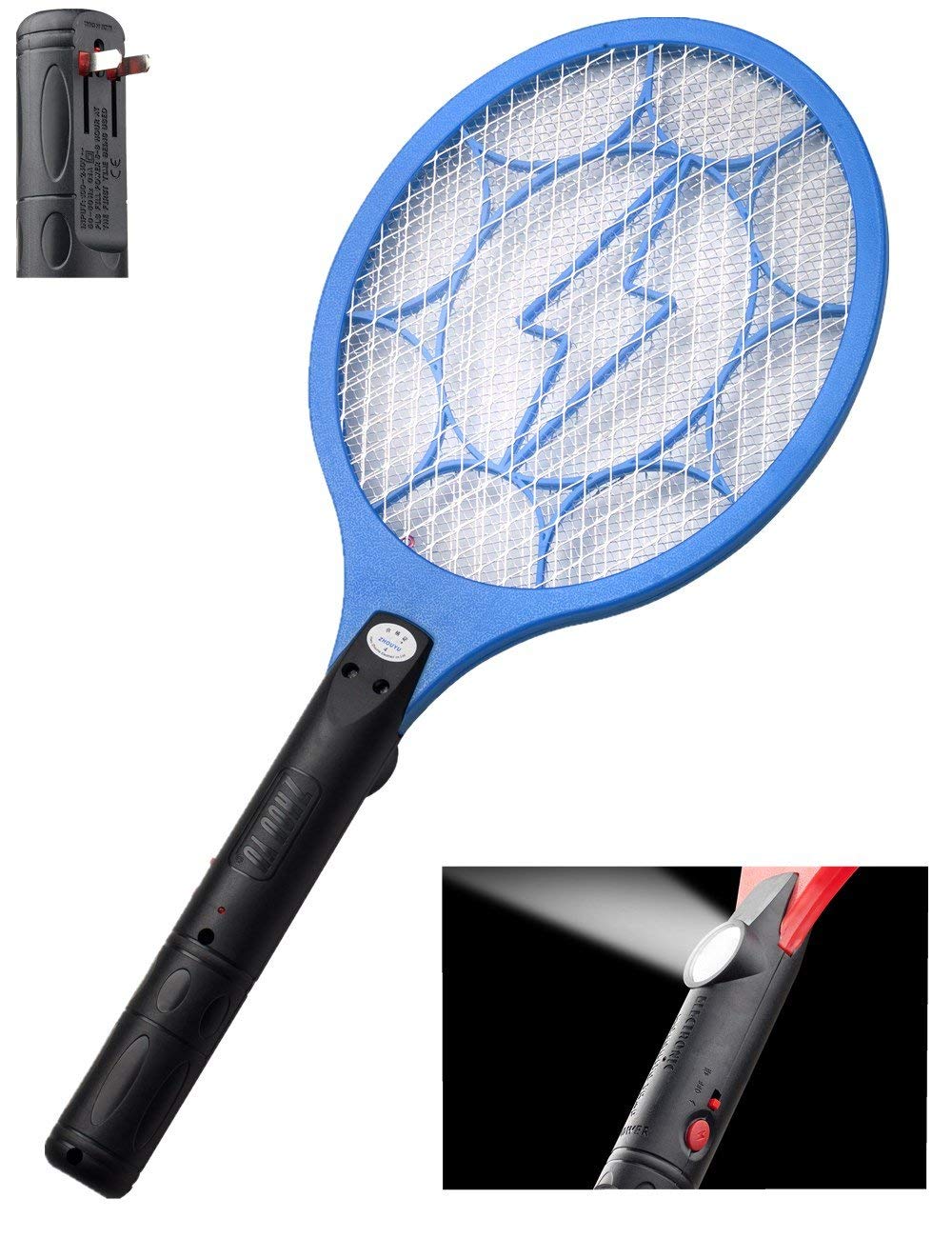 When you want to kill flies and other insects in style, then this product is perfect for you with the many color variants that it comes with. Some versions of the 3C World Bug Zapper fly killer make use of prongs that you can easily plug into your wall while some versions are powered by AA batteries. You have to take note of this fact before buying this product. If you have pets and kids in the house, the protective outer mesh that this product comes with will prevent them from harming themselves. Though killing bees is not recommended, you can effective kill them through this product.
7. Zap-It! Electric Fly Swatter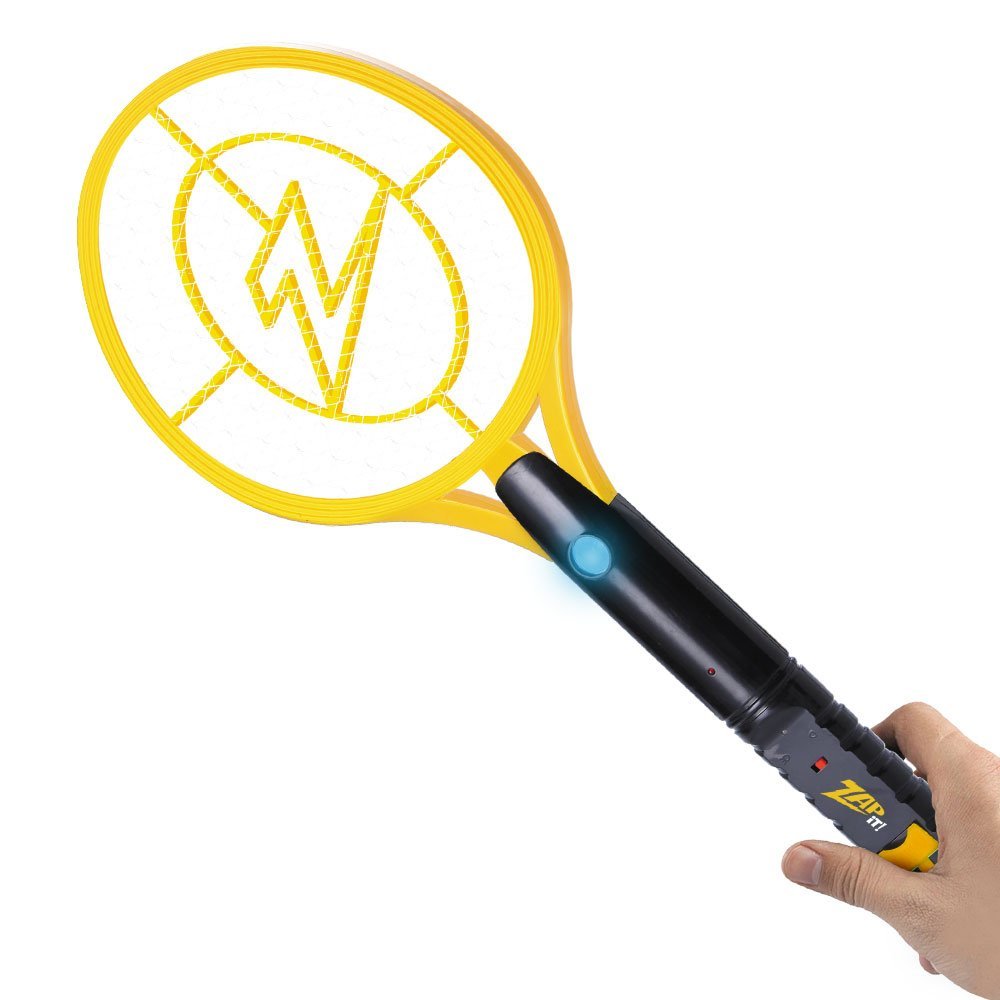 This fly swatter has a built-in flashlight and a fully rechargeable battery. You can easily charge the battery using a micro USB cable thereby letting you use the Zap-It! electric fly swatter fully charged for longer without the need to always buy a fresh pair of batteries. It offers a lifetime warranty while making sure to provide clients with excellent customer services. Customer representatives are always on standby and ready to assist you in any way that they can.
Conclusion
If you still cannot decide which electric fly swatter you should be buying after reading the above 7 options, it really all boils down to your priorities. Should you go with a swatter that is more durable and will let you easily kill flies and bugs around you? Or should you go with the less durable one that comes with a light? Of course, your choice will also matter on the kind of fly or insect that you will be killing. From the options above, you have a product that is great at killing big insects and another one for killing bees. The best fly swatter for you should always be the one that suits your needs the most and the one whose strengths are more significant that their weaknesses.