The Flowtron BK-40D Electronic Insect Killer is quite the marvel to behold while in action. With a 1-acre coverage, this electronic insect killer will gather flies from all around your neighborhood, farm, or anywhere, just to buzz them to death. I mentioned this product in my Best Fly Killers Guide.
How It Works
The Flowtron BK-40D gathers flies, mosquitoes, moths, and gnats around with a UV light surrounded by a metal cage channeling 80 watts through it. The killing grid is protected by a large metal grate with slots large enough to allow smaller and some larger insects in. It is recommended to put this up 20ft. away from usual activities and 6-8 feet in the air as it does attract bugs but also kills them.
The Flowtron BK-40D also comes with a mosquito attractant which is used to attract mosquitoes while the UV light attracts flies, moths, and gnats.  The mosquito attract is placed on the bottom of the trap. The insect killer emits a certain smell that insects, such as flies and mosquitoes, could not resist. The scent mimics the smell of a ripe fruit, as most insects look for fruits to eat. Once the pest is lured into the fly killer, it will be trapped inside and will not be able to get out. A zap will then be released to execute trapped pests all at once.
Pros of the Flowtron BK-40D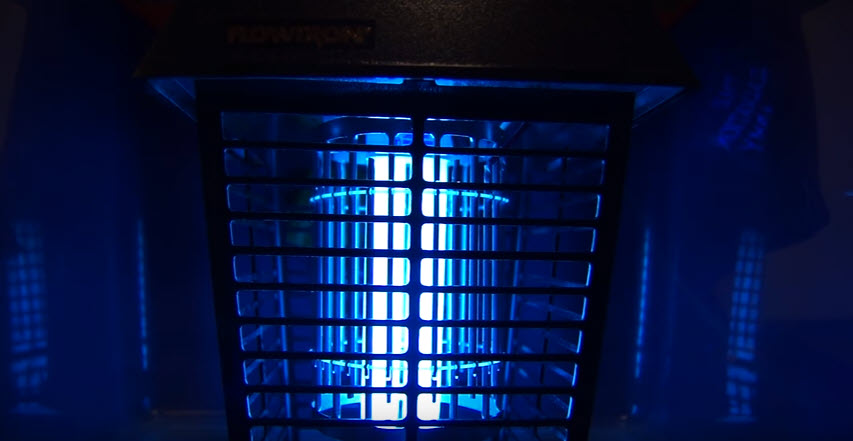 This trap is very attractive, especially to mosquitoes and flies. The finish on both the metal and plastic makes it look like an old oil lamp, especially when put on a shepherd's hook. As previously mentioned, it has a 1-acre coverage and comes with a mosquito attractant that also reaches up to 1-acre as well. It has quite the powerful zapping strength and fatally wounds even larger insects.
The outside plastic protection grid is large enough so bugs can slip in. There is also a grid on the bottom which saves cleaning up the mess. This prevents any clogging that may occur. The trap is waterproof and will not rust, crack, or fade. It's also worth mentioning that it can operate "for only pennies a day."
This trap can last for several years with only minimal maintenance. It is usable daily and does not require too much electrical consumption. Other than that, compared to other electric fly killers out there, the Flowtron BK-40D is the more affordable option. It sports a stylish finish and efficient fly killing mechanism that you will no longer be thinking about its price. This product also comes with a warranty so in case it gets broken after some time of use, you can send for it repairs at the manufacturer for free.
The main advantage of the Flowtron BK-40D is its high efficiency when it comes to exterminating flies. Instead of using the traditional air sprays that contain toxic chemicals, this product is entirely eco-friendly. It will not affect the health of the members of the household and it does not emit any unwanted smell. You only have to regularly clean the device, especially when there are lots of dead insects inside already.
Cons of the Flowtron BK-40D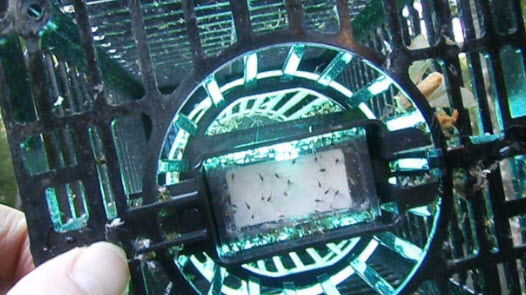 The power source cord straight off of the Flowtron BK-40D is about a foot, so you'll need to grab an extension cord. On top of that, so long as the Flowtron BK-40D is in, it will stay on, so you'll also need to get a light-sensitive timer if you want it to turn on and off automatically.
These two factors with the next fact that there is no shepherd's hook in it (unless you downgrade to the smaller coverage model where it ends up costing up to $5 more than this with the hook in the package) make for a pretty obvious problem: you're going to need to buy a lot more than just the Flowtron BK-40D if you want this to work well. It also only works at night when it's dark. Using the device at night is not entirely recommendable since flies do not typically hunt at night.
You might end up using too much electricity if you are using the device overnight. This product cannot specifically target flies for extermination since it is a general insect killer. If you do not want to kill other small pests in your home and want to focus on the flies, you should consider getting a different product. On the other hand, if you want a convenient and safe way of controlling all sorts of pests in your property, this is the product for you.
In Conclusion
Overall, this is a great defense against pesky insects of the night. If you need a large area coverage for bugs, this will do just fine. If you're willing to invest some money into it to make everything a little bit less of a hassle, it works even better! All in all, if you enjoy your outdoor evenings on the porch, you should definitely pick this up as it will repel mosquitoes and moths effectively for nights to come!
A lot of users have already expressed their satisfaction with this product. It is very effective in controlling pests in the home, especially if you have placed it in a strategic place. The Flowtron BK-40D with its price is definitely a great buy. You do not have to purchase an expensive device just to kill pests in your home or repel them permanently. This product has a reasonable price compared to many others out there so you should consider getting one.
Flies, mosquitoes, and other pesky insects must go away once they infiltrate your premises. Insect pests can carry certain diseases that can harm both humans and animals. Some of them can even cause death when not taken care promptly.
Controlling the pests living in your home should always on top of your priority every time you plan about home cleanliness and safety. If you want another solution to pest problems, you can hire professional pest control services instead.
Summary
Reviewer
Review Date
Reviewed Item
Flowtron BK-40D Electronic Insect Killer
Author Rating