The KATCHY Electric Insect Trap combines two mechanics together almost flawlessly: UV light attraction and a wind vacuum for sucking up bugs. If you need an indoor bug trap, this is definitely the way to go as there's never been one more efficient than this. This is very good at catching and trapping moths, (fruit) flies, and gnats. The glue boards are cheap and easy to replace. With this product doing so many things right, it's hard to justify trying any other indoor method, especially one that takes more effort and time (and possibly more money). After taking a look at this review, you will definitely feel the same! I mentioned this product in my Best Fly Killer Guide.
How It Works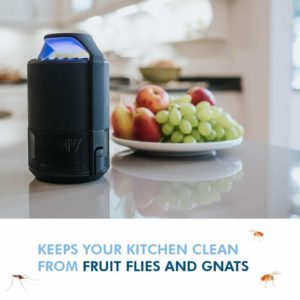 The KATCHY Electric Insect Trap uses a UV light that is at the perfect point in the color spectrum where flies, moths, and gnats are attracted the most. This pulls them towards the light at their own volition, and finally using a fan underneath the light, sucks them up completely and down onto a sticky pad. The UV light is a stylish LED. Extra glue pads are easily orderable. This is overall a great product and deserves a buy, especially when dealing with fruit flies.
Using The Product
The product seems to do extremely well when put against fruit flies. The fan also dries out the bugs if they do not hit the glue board, as the fan is incredibly strong. There are two modes: silent mode and strong mode. Both are not much louder than a whisper. Silent mode has the fan run weaker but quieter and strong mode has the fan run at full capacity, a little louder with more power. The carcasses of the dead insects are stored in the cartridge at the bottom part of the device. Parts are detachable for easy clean-up. It is important that the user should clean the device after every use since dead insects may produce an unwanted odor when left over a period of time.
This product is fairly easy to use. All you need is an electric outlet and your insect trap will work instantaneously. There is no need for assembly whatsoever. The device is ready to use out of the box. Some users complained about the length of the electric cord that comes with the device but you can always purchase an extension cord if you need more length. What makes the KATHCHY Electric Insect Trap stand out from the rest is its effectiveness against pest control. It can kill almost any type of insect pests and it is proven to be very effective against flies and mosquitoes.
What's Included with The KATCHY Electric Insect Trap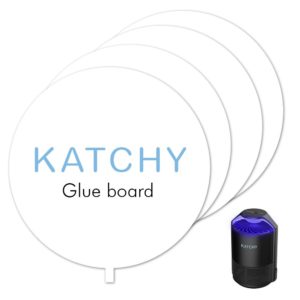 The KATCHY Electric Insect Trap includes the trap itself, a USB charging cable, a USB wall plug, and a glue board. You can order more KATCHY Insect Refillable Glue Boards if needed. The USB charging port makes it easy for portable usage anywhere in the house or traveling anywhere. It's even viable for use in the car. The device itself is small and light.
It's been designed with the idea of being portable being a priority. You can carry it anywhere, making it possible to use during your outdoor activities and vacation. This product comes with a stylish finish and you can choose from a set of colors. The replaceable glue pads that come with the device aren't very expensive if ever you run out of stocks. You can easily get one at a local store. If you are a first-time user of electric insect traps, carefully read the instruction manual that comes along the device.
Why You Should Buy The KATCHY Electric Insect Trap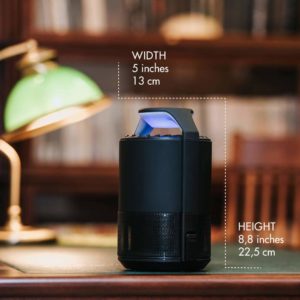 Everything about this product tells you that the designers really know where you're coming from. You have a pest problem and you want a quick and effective way to be rid of it. They did just that. From its portability to its effectiveness, everything about this product bleeds brilliance. The fact that there is a USB power supply means it can be used literally anywhere when hooked up to a power bank. The device is very easy to use so if you are planning to give one to your grandparents, you should not worry about them not being able to use it properly. Once the device is plugged in, it should work as it usually would.
The effectiveness of this product definitely stands out among the rest of electric insect traps out there. This product can exterminate various kinds of insects in just a short span of time. Flies, for example, are easily attracted to the smell that this device emits when turned on. You will be able to live a pest-free home once you have a KATCHY Electric Insect Trap installed on your premises.
Conclusion
If you have a fruit fly infestation you should most definitely buy this product. It's an incredible wonder for any type of fly problem and can really get the job done practically overnight. With its sleek design and silent fan, it's hard to be an eyesore and makes for an impressive decoration. Overall a must-buy for any fruit fly killer.
If you are still unsure whether this product is the right one for you or not, it would be best if you start with the cheap and disposable fly trapping products first. At least, you can know the difference between two different types of fly killers. Disposable tape traps, for example, can attract and kill flies that go near your premises.
They basically work just like an electric fly trap except they are disposable and sometimes inconvenient to use. You will have to change the sheets every time they are full of fly carcasses. If you have the budget for a good fly killer, you should definitely go for electric fly traps. They are user-friendly and definitely very safe to use. Your plants and pets will are safe during the process since this product only targets insect pests.
Summary
Reviewer
Review Date
Reviewed Item
KATCHY Electric Insect Trap
Author Rating