Whether you are having pest problems indoors or outdoors, Hoont has products that you can rely on. Apparently, the brand offers various kinds of products that will help you get rid of pests. And many homeowners are quite familiar with the brand as they have become one of the leading names in the industry. So, if you are in the search for one, this Hoont Electronic Fly Killer Indoor Zapper review might help you.
The Hoont Electronic Fly Killer Indoor Zapper
As mentioned, Hoont has now become one of the most popular brands when it comes to fly killers and pest control products. In fact, some of their offerings are seen as the most ideal outdoor and indoor fly trap and killer products. And one of these actually includes the Hoont Electronic Fly Killer Indoor Zapper.
This fly killer from Hoont is very cheap. But while the cost is pretty low, its quality is not. And if the price plays a huge factor in your buying decisions, then this might be an ideal option for you.
First and foremost, this product has been found to be very effective and efficient. But even so, this review will help you find out if these things are all true.
Features and Specifications
Whether you want a product that can help you control pests or kill them, the Hoont Electronic Fly Killer Indoor Zapper can be a great choice for you. As it happens, it features a high-intensity ultraviolet light that essentially attracts the flies, insects, and all other flying pests.
Once these flying pests make contact to the grid, it immediately kills them.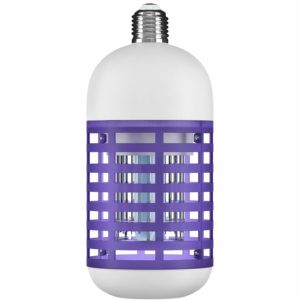 This is because the metal grid offers a very powerful voltage that is electrically charged. And it will help you get rid of them as long as it emits lights.
It is also worth noting that this zapper is very safe to use on a daily basis. So even if you leave it on for 24 hours seven days a week, it will not cause any negative impact on your environment. As for its wattage rating, it is actually rated at 7 watts.
Structure and Build
Just like any ordinary bulb that comes with a size of 7×4 inches, the Hoont Electronic Fly Killer Zapper appears and looks like to be the same. Accordingly, you can place it into any bulb socket as long as it has the standard size. It can be put into your ceiling, wall, lamps, and other areas where a bulb socket is available. In short, it will be largely dependent on your preference.
In addition, it features a non-clogging grid. Hence, this adds to the overall convenience that it offers to the users since maintenance is not entirely necessary to be done on a daily basis. And when the time comes that it already needs cleaning, it is safe and very convenient to clean, thanks to its removable tray at the bottom.
But while the product is claimed to be an indoor and outdoor type, it is not weatherproof or waterproof. So, if you are intending to place this in the outdoors of your property, make sure that it will stay dry when turned on. This is also the very reason why most users would call this as an indoor zapper.
Scope and Range
One of the factors why the Hoont Electric Fly Killer Indoor Zapper is very well-known is due to its scope. Apparently, it features the wide spreading of the light in all directions. Therefore, when this is turned on, it can provide a 360-degree emission of ultraviolet light. And according to actual users, one bulb can cover up to 500 square feet.
Hence, you can also utilize this fly killer zapper even for commercial or industrial applications.
Working Life and Bulb Replacement
Bulb replacements are also available for this product. So even if the bulb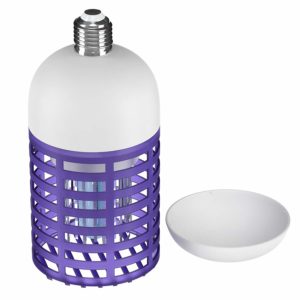 fades out, you can easily replace it with a new one. And you would no longer need to purchase a new package of Hoont Electric Fly Killer.
The bulb base is a standard E26 with 110V screw base. Of course, you can easily find one on the market. But it is still much recommendable if you replace the bulb that comes from the same brand.
One Hoont ultraviolet light bulb can actually last for 8000 hours on an average note. And this can actually be equated to 333 days or almost one year. Other homeowners attest that this electric fly killer can even last up to almost two years since they do not use it 24/7. Hence, depending on your usage, the lifespan of the bulb varies.
Cost and Warranty Term
The overall cost of the Hoont Electronic Fly Killer is rated below $50. And for this price, it already comes with one ultraviolet bulb. It is also worth mentioning that there are times that Hoont offers special packages and discounts, especially on holidays. Hence, you could expect for the price of the kit to decrease dramatically.
As for the warranty terms, the details of this aspect are not specifically disseminated for leads and possible consumers. And some take this as a negative point for the product.
Final Thoughts: Should You Buy It?
The Hoont Electric Fly Killer Indoor Zapper is a great fly killer device. And for this price range, it is already a steal given all the impressive features and specifications. But while most of the aspects of this product are quite promising, there are a few drawbacks that some buyers and users claim for this fly killer. And one of which is its warranty term.
As it happens, there is no clear detail for this matter. And one would need to be in touch with customer service to fully learn the terms. Even so, the product remains to be a very great and effective fly killer. So, buying it is just suitable if you want a cost-effective and reliable product.
Nevertheless, if you feel like that there are other products that are more effective than this, then you may want to check other models and brands as well.
But if you want to learn more about the Hoont Electric Fly Killer and help you with your decisions, you may want to check this video out first: